About
[
]
This is a mod started by Ghouly89. It focuses on creating a completely playable female hero red-head critter. Unfortunately, the Fallout devs never got around to giving her many of the basic animations for even one whole armor set, so this might take a while to complete.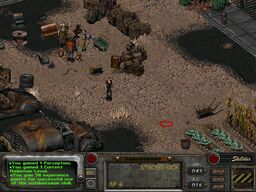 Current Workforce

Helping Out
All those willing to contribute please check the talk page. Also, there is a forum thread at No Mutants Alllowed about the red-headed critter.
Progress
[
]
Overall completion: 74/653 (11%)
Completed FRM's
JMPS:
[Original]:
- A set (basic movement)
- B set (death animations)
- C set (get up)
- R set (dead)
[by Aqui11]:
- D set (dagger)
- E set (club)
- H set (pistol)
- I set (SMG)
- F set (Hammer)

(MAXX) Leather Jacket:
[by Aqui11]:
HFMAXX AA
HFMAXX AB
HFMAXX AE
HFMAXX AK
HFMAXX AL
HFMAXX AT

LTHR MK2:
[by Ghouly89]:
- A set (basic movement)
Trivia
[
]
This mod is included in Killap's Fallout 2 Restoration Project.