Mod Organizer 2, also known as MO2, is a PC software utility that manages mods. It is a popular choice amongst the Skyrim and Fallout 4 communities. Compared with other utilities, MO2 is notable for allowing the user to create separate profiles and templates for a given game.
Configure profiles
[
]

"Configure profiles" are mod templates that you can create in order to experience Fallout with as many mods as you want without suffering the 254 plugin cap limit. Want to survive a Nuclear Winter or a Zombie apocalypse? Want to get into Horizon, but didn't have enough plugins to play them all? Now you can! Just make templates dedicated to each experience which usually take up as many as 50+ plugins each.
Considering the 254 plugin cap, I have 200 plugins worth of active Fallout 4 mods. I make a Nuclear Winter MO2 profile that I can name as "Nuclear Winter" that will run my core 200 plugins + 50 plugins of Nuclear Winter mods.
Now I want a Zombie apocalypse. I create another MO2 profile that I name "Zombie apocalypse". It will run my core 200 plugins + 50 plugins worth of zombie/ghoul mods.
You can 'configure profiles' as many as you want, to create different worlds and experiences for Fallout, never having to suffer from the 254 plugin limit.
You will want to get started with this process right away in preparation for the upcoming mod universes!
Mod Organizer 2

You should begin with creating your core mods! Create a Core profile that you can build 150+ of your favorite mods (ones you cannot live without). Then copy and rename a new profile. This will carry your 150+ core mod plugins over to the new profile. Then you can build another 100 mod plugins to the new profile, tailoring it to how you want. Imagine each profile being unique with 100 different mod plugins each! This MO2 option allows you to circumvent the 254 plugin limit for Fallout 4 on PC. Vortex can't do this.

Get crack'l'ackin!
Boo-hoo for you X-box players, PS4 players, and Vortex users who suffer from mod addon limits.
Problematic plugins
[
]
Mod Organizer 2 will help you find problematic plugins, even ones that are not flagged with any errors. If you are experiencing weird gameplay, like seeing missing body parts, MO2 can help you narrow down the plugin that's causing problems. With one click you can select multiple plugins to narrow down, by process of elimination, which plugin is being difficult. Vortex does not have such capability.
Migrating
[
]
Vortex users will absolutely hate migrating from a drag and drop platform. Vortex has made it so easy, with drag and drop you will hate MO2's lack there of. Drag and drop makes it so easy that you don't have to think about the files you are dropping into load. This creates blind-spots. You may be trying to install UIs or ENBs that require you to read their readme.txt for proper installation. Leaving drag and drop is a small price, you have to pay, if you want to install and play multiple Fallout environments, ie: FO4-New Vegas, FO4-Arroyo (California/Nevada/Arizona), FO4-Wyoming, FO4-Capital Wasteland, and FO4-London. These environments you cannot play at the same time, but can switch back and forth - with EASE - and at will - in Mod Organizer 2! You cannot do that in Vortex. So while we're playing FO4 New Vegas and London through MO2, you can be stuck fighting a 254 plugin cap at Vortex.
Preparation
[
]
Organizing your downloaded mods into F:\folders, is a great way to get started planning how you're going to 'configure profile' in MO2. See the example below. You can start right away building your New Vegas universe for FO4! This way you are not just dumping a mess of mods into one folder. Note that your Core mods may be as many as 200 plugins. Each universe may be 50 plugins. Here is a list of possible universes!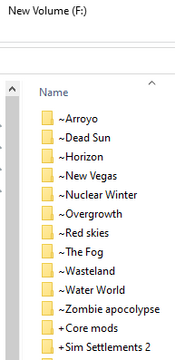 Objective:
(1) Partition your harddrive to F:\. (2) Unmanage from NMM or Vortex. (3) Run a search on your [Fallout 4] folder on c:\ drive for "vortex" to search for all vortex files affecting Fallout 4, then DELETE all files. (4) Once clean of VORTEX, copy your [Data] folder and preference files/folders to the new harddrive F:\ to protect and backup all your downloaded mods and pref files. (5) Uninstall Fallout 4 from C:\ (STEAM users will have to uninstall STEAM). (6) Reinstall STEAM - Fallout 4 on your new harddrive F:\. (7) Install or reinstall MO2. (8) Look, you are more likely going to have to re-download a lot of mods simply because you used Vortex to do it. It unpacked all your files for you. And you know what, so what? You will now be in downloading frenzy mode, downloading every single favorite and wanted mod you ever wanted to play because you are no longer fighting with Vortex telling you .. oh .. 'you can't play past 254 plugins'. No more! After you follow the below migration steps... Get over to MO2 and start the 'Configure profile' of mod templates so that you can switch and play.
How to partition your harddrive to F:
Windows desktop
Step 1: Disk Management


Step 2: Shrink Volume of your main harddrive. Usually C:\ Select the amount (in MB). Prefer you allocate 300,000 MB (300 GB). Then press [SHRINK]. (Note: It's easy to have downloaded up to 100 GB of mods alone).

Step 3: New Simple Volume. Right click the newly created space.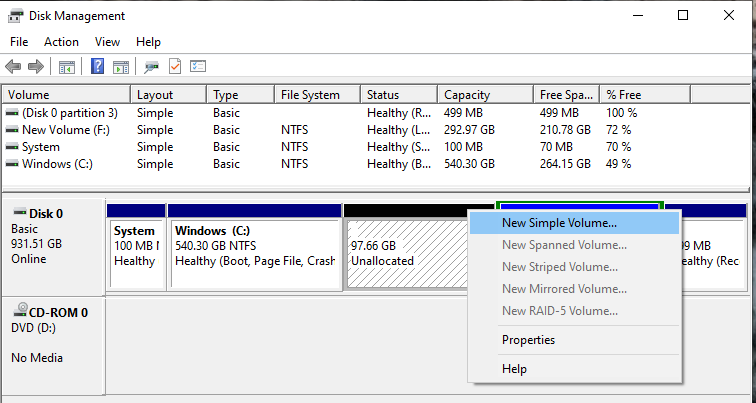 Step 4: Select Drive F... for Fallout of course. Go through all the NEXT steps to select your new drive.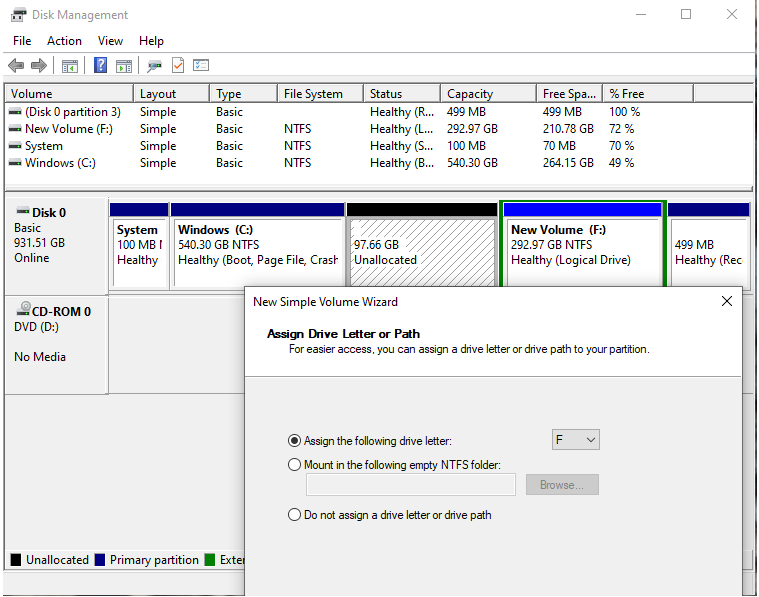 Dismount, Uninstall, Reinstall

Unmanage from NMM or Vortex. To be on the safe side, you should just uninstall these. With Cyberpunk 2077 you're going to want to mod up that one just as nicely.
Cleanup. Run on a search on your [Fallout 4] folder on C:\ drive for "vortex". DELETE all VORTEX files. Backup. Copy your [DATA] folder (filled with mods) and the preference folders to the new F: drive. It's preferred that you create a New Folder (called BACKUP) to put them in to, to keep separate from the new Fallout installation. Recommend you back up all your mod downloads to a datastick or burn to DVD.
Note: If you have already installed Mod Organizer 2 and you are seeing your mods as "unmanaged", just uninstall MO2 for now until the new Fallout 4 installation is complete.
Fallout 4 from C:\ (Read why here).
Creation Kit (Because it will only recognize F:\ upon new installation)
Steam (Because it hates you)
Reinstall Fallout 4 on drive F:\. If you are using STEAM, you will have to uninstall and resinstall STEAM to F:\Program Files (x86)\Steam\. It's the only way to make it work. Reinstall Creation Kit. Copy F4SE files back to the new Fallout 4 installation folder, as instructed by its readme.text (Needed for major mods such as Looks Menu.
Install or reinstall Mod Organizer 2. In MO2, fix the paths of all your launch files to F:\.
If after all of this, STEAM users experience loosing your full screen, read the full screen fix here.
Running mods
[
]
In order to run any PC mods on Fallout 4 you must do the following:[1]
Go to C:/Users/[Your Profile]/My Documents/My Games/Fallout 4
Open the file named Fallout4.ini in notepad
Find sResourceDataDirsFinal=
Update the line item to read:
sResourceDataDirsFinal=STRINGS\, TEXTURES\, MUSIC\, SOUND\, INTERFACE\, MESHES\, PROGRAMS\, MATERIALS\, LODSETTINGS\, VIS\, MISC\, SCRIPTS\, SHADERSFX\
Save and exit
Open file Fallout4Prefs.ini in notepad
Scroll to the bottom to find the [Launcher] section. Type bEnableFileSelection=1 under [Launcher].
[Launcher]
bEnableFileSelection=1
Suggested starters
[
]
F4SE
[
]
It's highly advised that you install Fallout 4 Script Extender (F4SE), generally for Fallout 4 runtime 1.10.163. Many advanced mods require this boost. After you download it, make sure to read the f4se_readme.txt so that you can be advised on how to properly install.
Looks Menu
[
]
Creation Kit
[
]
Resources
[
]